The Vermont Veterinary Technician Association invites you to:
RECOVER Basic and Advanced Life Support
Certification Registration with Beth Kennett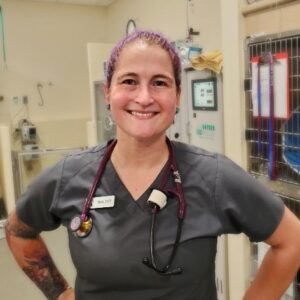 Beth Kennett BS, CVT is a full-time Neurology Veterinary Technician at Burlington Emergency and Veterinary Specialists in Williston, Vermont. She has worked in veterinary medicine in Vermont since 2013, starting as a kennel attendant, and progressing from general practice to  technician in emergency and critical care, and now neurology at BEVS. She earned her associate's in Veterinary Nursing from the Purdue University Distance Learning Program in 2022 and her bachelor's in biology and animal science from the University of Vermont in 2014. She has been a RECOVER Certified Instructor since January 2020, and loves teaching CPR. She and her husband share their home with three black cats, a dog Ranger, a bearded dragon Steve, and a beta fish Ichabod.
Three Individual Certification Sessions will take place:
Saturday May 6 at 8am-2pm
Saturday May 6 at 3pm-9pm
Sunday May 7 from 10-4pm
At BEVS: 1417 Marshall Avenue Williston, VT 05495
In order to participate in the in-person training you will need to complete the online Basic Life Support (BLS) and Advanced Life Support (ALS) courses online at least TWO WEEKS before your scheduled in-person session (so by April 22nd).
These courses take about 8.5 hours combined and are RACE-approved. The in-person sessions take about 5-6 hours total and are also RACE-approved. That's 13+ hours of CE!
If you have not completed your online training by the deadline your spot may be given to someone else.
If you are already certified your certification expires 24 months after your last in-person training. There is a recertification online portion that only takes about 2 hours, and then the in-person is the same.
You can register yourself for the online courses (Techs $75 for BLS and ALS, Doctors $150 for BLS and ALS). The discount code: RespondCPR can be used at check out for the online portion.
Click here to view online courses.
Click here to view Recertification Courses.
Don't know what RECOVER is? Click here to find out.
 Registration/Certification: currently limited to VVTA members due to class size limitations
$155 VVTA Members
REGISTRATION DEADLINE: April 15, 2023
*********** NO REFUND GIVEN IF NO SHOW ON CE DAY ***********
***Must be a VVTA member for 6 months before receiving VVTA member discount. ***
Register Here:
If you'd rather fill out an application by hand, or pay by check, download a printable form. Make check payable to:
Vermont Veterinary Technician Association (VVTA) VVTA
c/o Rachel Cerutti
PO Box 24
Woodbury, VT 05681